Are you a Hearing Care Professional?
EFFICiENT AND EFFECTIVE
Redux Home Dryer utilizes advanced humidity sensors to effectively remove moisture from your hearing devices, ensuring optimal performance and an extended life span.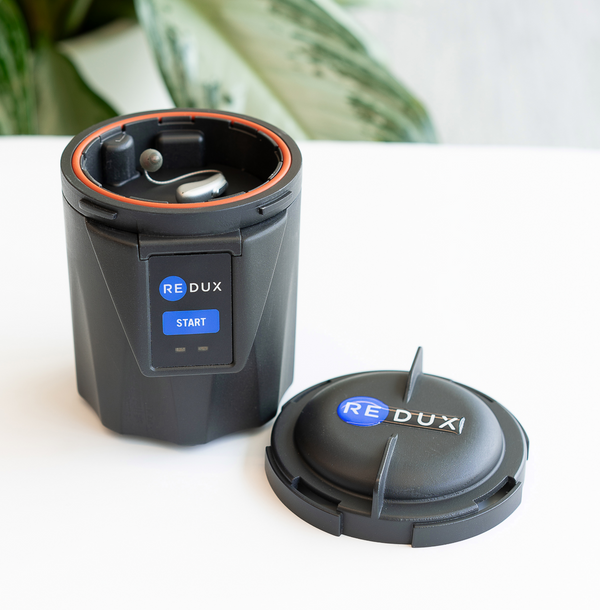 An All-In-One Purchase
Redux Home Dryer eliminates the need for additional equipment, desiccant refills, fees, or subscriptions. It provides a hassle-free solution for maintaining your hearing devices at home.
---
Redux Home Dryer is your complete moisture removal system that allows you to be proactive about hearing device maintenance and performance at home. The drying process takes two hours, on average, and we recommend drying once a week. No subscription needed. Comes with a 1-year warranty.
Safe for use on:
Hearing Aids
Hearing Aid Accessories
Cochlear Processors
Baha Processors
Earbuds
Small Fitness Devices
---
THE GOLD STANDARD OF DRYING
Complete moisture removal.

Safe for rechargeable batteries.
Let customers speak for us
Testimonials
"My mind is still blown by the amazing results of Redux. I had no idea how much I wasn't hearing. The clarity and strength are so very much noticeable! So much gratitude for always advocating on behalf of me and all hearing-impaired folks to improve quality of hearing and overall life!"
Frequently Asked Questions
Are hearing aids waterproof?
Moisture continues to be the most common reason for hearing instrument malfunction. While hearing instruments have seen improvement in their water resistance, they are not waterproof. The performance of these devices is still often negatively impacted by the constant presence of water in our world. Left untreated, moisture can lower sound quality and eventually lead to complete hearing device malfunction.
What makes Redux Home Dryers different than other hearing aid dryers?
Redux Home Dryer offers complete moisture removal while other dryers only achieve relative dryness. This dryer is a one-time cost that requires no desiccant refills, subscription charges, or additional costs. Redux is also a brand trusted by thousands of hearing care professionals with over 72 patents backing its revolutionary technology.
Does Redux Home Dryer use heat?
Redux Home Dryer uses no heat, making it safe for all hearing devices, including those with rechargeable batteries.
Can I use Redux Home Dryer on my rechargeable hearing aids?
Yes! Redux Home Dryer uses no heat, so it is safe for hearing aids with rechargeable batteries.
Do I need to periodically refill desiccant?
No! Redux Home Dryers requires no desiccant refills. They also do not require any subscriptions or additional costs.
Will Redux work on hearing devices put through a washing machine?
No matter the amount of moisture, Redux Home Dryer returns your hearing devices to complete dryness, and in many cases, this is enough to revive hearing devices put through the washing machine. However, if the moisture has damaged the internal electronics of your device, removing the moisture will not fix them.